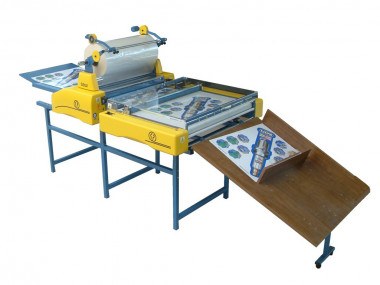 The FOLIANT 720HPS is a simple semiautomatic laminating machine (laminator, separator) designed with an operating width of 720 mm. It represents an ideal choice for a professional in-house single side lamination in small offset printing shops printing and processing sheets up to a B2+ size (the largest format is 72 x 100 cm). Maximum speed is up to 10 meters/min.
The machine's main feature is a small floor space, one single phase 220 – 240 V supply cable, a nice design and an easy machine operation. The machine is supplied with a simple steel modular stand. An RU 760 Reception Unit and/or a Jogger 760 for storing the laminated sheets are supplied as an option. The machine requires a minimum floor space of 120 x 350 cm including the RU760.
Laminator
The FOLIANT 720HPS laminator maximum sheet size is 72 x 100 cm. The minimum sheet size is 30 x 25 cm (A4). The roll of a film is mounted on an easy handle shaft with a film tension control breaker. The shaft capacity is up to 3000 m of the 24 - 31 microns film. The film holder unit is equipped with a trim slitter and a perforating wheel. The laminating process is done between two laminating rollers – an upper heated silicone roller, and a lower hard rubber pressure roller. The laminating roller is heated with an infra-red heating spiral, with a sensitive contact temperature sensor. The pressure is mechanically adjustable to achieve the pressure between the laminating rollers. The laminating unit is equipped with an adjustable decurl bar.
Feeding
The FOLIANT 720HPS is a semiautomatic machine. The feeding is manual. For an easy manual feeding the laminating unit is equipped with a synchronized feeding conveyor and an adjustable side guider.
Separator
The belt separator (sheeter) is equipped with a separating roller and a deflection wheel. The separated sheets are delivered into a reception unit or a vibrating jogger (options).
Laminating Films
The machine laminates the BOPP films (23 – 42 microns).
Specifications
Maximal Speed: single side 10 m/min
Feeding System: Manual
Separation: Automatic
Paper Weight: 115–350 g/m²
Main Roller Pressure System: Coil springs
Minimal Sheets Size (w×l): 30×25 cm
Maximal Sheets Size (w×l): 72×100 cm
Maximal Performance: 600 B1 / hod.
Temperature Control: 80–140 °C, Warming Up Time 5 min
Power Supply: 230 V AC, 50-60 Hz
Power: 3000 W
Mechanical Parameters: Floorspace (w×l) 120×350 cm, Weight: 195 kg
Optional